Ahh, Hawaiian Punch! I have great memories of swigging "Fruit Juicy Red" while taking a break from performing a chore called walking the beans, a job that required moving down the rows of soybeans and cleaning them by pulling and cutting weeds.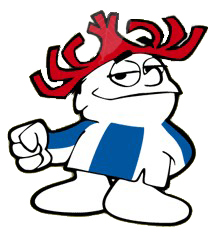 Punchy, The Hawaiian Punch Mascot
After a while, walking 1/2 a mile up and down the field all day in the summer heat, you develop a strong thirst!
Our employer had a cooler full of Fruit Juicy Red cans that were so cold! Tilting that can back and letting the drink hit the back of my throat was exquisite! The only way I can drink it anymore IS from a can.  To me, it taste's different from the jug.

---
I recall the old commercials on Saturday morning cartoon day....the basic scenario took place: It involved Punchy casually dancing and prancing around with a container of Fruit Juicy Red in his hands. He bounces up to what looks like a tourist wearing a traditional floral shirt and a goofy hat and asks him "Hey, how about a nice Hawaiian Punch?" The poor guy says, "Sure!" and Punchy promptly punches him out, dancing across his fallen body!!