Crunchmaster Multi-Seed Crackers, Original 4.5 Oz
15 Crackers: 140 Calories, 0.5g Sat Fat, 110mg Sodium, 0g Sugars
Crunchmaster™ Multi-Seed Crackers Original. Made with 100% whole grain. Our special blend of sesame, quinoa, flax and amaranth seeds is what gives this cracker great crunch, wholesome goodness and superb flavor. Contains no artificial colors and flavors. This vegan product is Gluten free and Non-GMO Certified.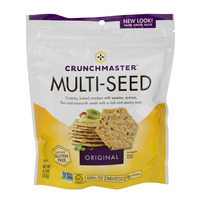 Crunchmaster Multi-Grain Crackers, Sea Salt 4.5 Oz
16 Crackers: 120 Calories, 0g Sat Fat, 140mg Sodium, 1g Sugars
 Crunchy, baked crackers with whole grains, seeds and sea salt. Our special blend of whole grains and seeds is what gives this cracker wholesome goodness, superb flavor and the crunch you crave. Gluten & cholesterol free. This vegan, non-GMO product is a good source of fiber and contains no artificial colors or flavors.