Eight OClock Coffee does some interesting things to my nervous system. Just two cups of Original Ground and my hands start shaking like a leaf which then begs the question: "How much is two cups?" That could be the problem!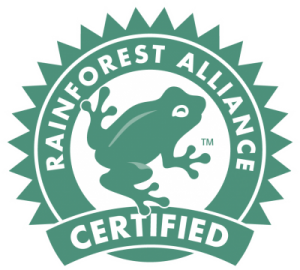 I noticed that some of the bags of coffee on this page have a green logo of a frog on them encircled with the words Rainforest Alliance Certified.
What is Rainforest Alliance Certified? It's a audit process for tourism, forestry and  agricultural businesses involving meeting the Alliance's Sustainable Agriculture Standard so they can get that certification. It's about sustainability in short and best practices.
Without getting long winded about it, obviously Eight OCLock Coffee and the farms the beans are grown, produced and processed on have gotten that Certification! Nice work!